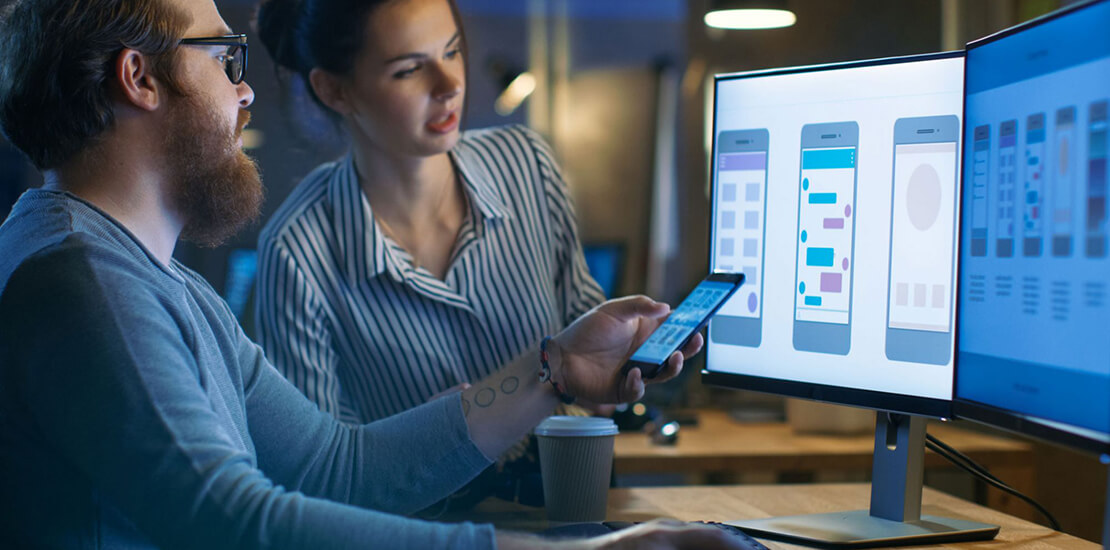 Mobile App Development
Mobile App Development and thus Mobile Apps are gaining more and more importance in the modern marketing landscape. Apps offer new and innovative possibilities for customer acquisition, customer loyalty and brand building. A smartphone app for the dominant platforms iOS and Android can take a company's digital marketing to the next level. In addition, mobile apps can also optimize internal company communication.
Mobile apps in the digital marketing strategy
The own app takes a special place in the marketing plan of a company. Since people today carry their mobile devices (smartphones and tablets) with them all the time, this opens up completely new marketing opportunities: a company is in constant contact with its customers, so to speak, and interactive two-way communication takes place. Mobile apps are particularly effective tools for customer retention, as people themselves decide to install the app on their own device.
Technical features of the mobile apps
Mobile apps can be divided into different categories: A distinction is made between native apps developed specifically for a particular platform and several types of platform-independent apps. Platform-independent apps include web apps, hybrid and cross-platform apps, and the most common native apps are Android and iOS apps.
Our company will be happy to advise and support you in all your app projects. However, our clear focus is on native apps for iOS and Android devices. These devices are by far the most widespread, and experience has shown that this app technology also delivers the best performance. We make sure that apps developed by us can be run on as many different Android or iOS devices as possible, including all common smartphones and tablets.
Possible features of mobile apps
The functionality of mobile apps is almost unlimited when developed individually. Both small, slim special applications with only a single feature and large, complex applications and software packages with a very wide range of functions can be developed.
With marketing apps, companies can present themselves to the outside world, inform customers about current campaigns, send push notifications or map discount and loyalty point systems. Internal apps can be used to make employee communication more efficient and to optimize project management.
Technologies used

Consulting service from idea to finished product
As a consultant for the digitalization of business models, we would like to support you in the further development of your idea into a finished product or an individual solution. We are at your side at all stages of project development: from planning, through analysis and conception, to actual implementation and development. Even after completion, we are happy to continue to support the project, implement updates, etc., on request.
We rely throughout on the principles of agile project management. You are welcome to send us your non-binding inquiry or make an appointment for a free initial consultation.
Contact
Send us your non-binding request today.
[cf7rfr_referrer cf7rfr_referrer-894]